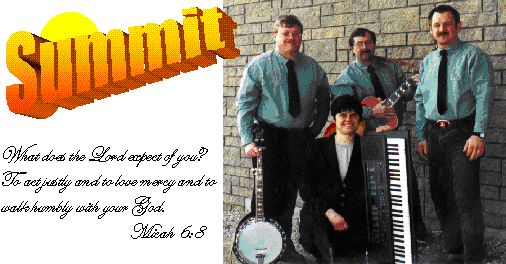 From left to right:
Garth Franklin, Sharon Carter, Garry Erb and Ron Bauman
Summit is a Gospel band spreading God's word wherever they go.
Summit's desire is to entertain but more importantly to introduce people to Jesus Christ
From Listowel Mennonite Church, Ontario Canada.
Summit is looking forward to branching out to as many people as possible with the good news that Jesus loves them and he died to set them free. As the year 2,000 draws closer many people are afraid. They do not know if they are ready, should Christ return. Summit is here to let people know there is hope and freedom from fear.

Information about the group Summit

For information on how to arrange for Summit to come to your community or church please feel free to email us at any of the People below.
email addy's
(click on name to email)

This page was setup by Eric Sider
Web site was last updated on January 16, 2000.